The SELBY Range Display Cabinets
All display cabinet fronts, excluding Honey Pine and White Pine come with a delicate blend of gold inlay on the inside of the frame.
To enhance this superb range of display cabinets, each is stained and spray polished to give a satin finish to match the picture frame front.

As with all Toyman Display Cabinets, shelf widths are available in either 3", 4" or 6". TM15 shown below is finished in honey pine and demonstrates how adaptable this display cabinet can be for a collection.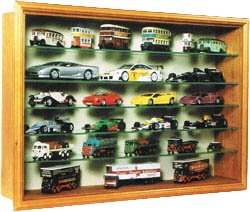 This display cabinet is designed to house the longer types of models including modern trucks, heavy haulage and 1/18 scale models. The TM3 display cabinet below is finished in Mahogany and comes complete with eight ground edge glass shelves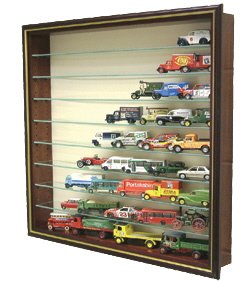 As with all Toyman Display cabinets the shelves are fully adjustable.
PLEASE NOTE: Online payments will be taken through Paypal. If you do not have a Paypal account already you will be invited to set one up.
For alternative payment options or more information on any of our cabinets, please feel free to email us...