The STANDARD Range Display Cabinets

All the Standard Range Wall Mounted Display Cabinets have a black coloured carcass and a white background and are available in either 3" or 4" shelf widths.

The display cabinet shown (TM1) is a vertical cabinet, supplied with 8 glass shelves, which are all fully adjustable (as with all Standard and Selby Range cabinets).

Supplied with a black ash carcass and a choice of 3 glazed fronts, finished in Teak, Dark Oak or Mahogany. All fronts have a small inlay of gold on the inner side of the frame.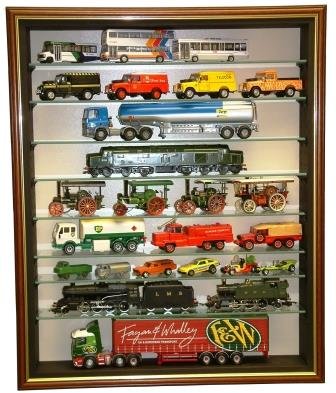 The TM1H display cabinet is the same as the TM1 but is 24" wide and 191/2" high.

The display cabinet is supplied with 6 adjustable shelves and is ideal for trains, 1/43 and 1/76 models and other models as shown in the photo.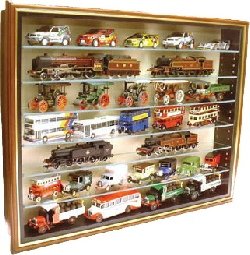 As with all our Standard display cabinets the background is white to enhance the colours of your models.

The TM7 Vertical display cabinet includes 10 shelves (11 with the bottom) and fully adjustable shelving. It will suit any type of collectable, Including trains, toys etc. Black ash carcass, white background, choice of teak, dark oak or mahogany frame as seen below.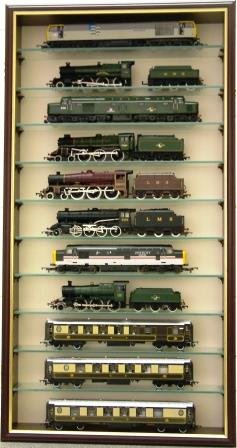 The TM7 Oak, as seen here, has a light oak carcass with a dark oak frame. Whilst it is similar to the TM7 shown below in so far as the size and number of shelves are the same, it differs in as much as the carcass is a one off, with no variations available in frame colour.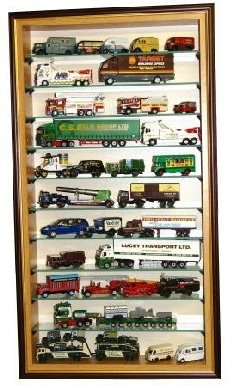 We now have a Beech TM1 Horizontal including a beech carcass and a beech front. This is ready to hang with our standard 100% dust proof cases, the TM1 with 6 fully adjustable glass shelves and a 4" depth to take 1/24th, 1/43rd and 1/76th models, and the TM7 with 10 glass shelves to be used for many different types of model, including trains, and toy soldiers.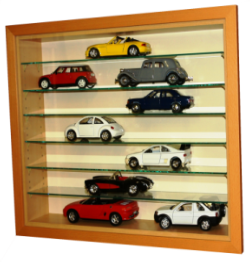 The TM2 Horizontal includes 7 x 6mm glass shelves, 8 including the cabinet bottom, fully adjustable. Ideal for trains or any other collectable toys, complete with black ash carcass, white background and a choice of frames. As with all our cabinets, 100% dustproof.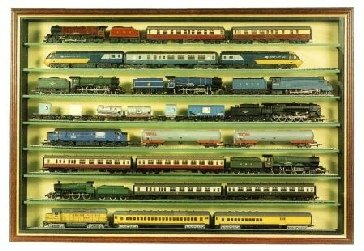 The TM6 is especially designed for the modern truck collector; comes complete with 8 x 6mm glass shelves. It will take an assortment of up to 18 tractor and trailer units as required by the collector. 4" deep shelves allow you to adjust the tractor units.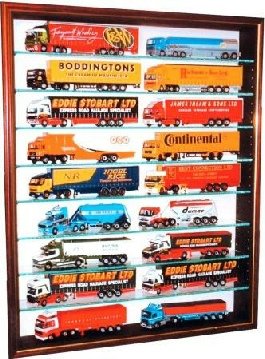 PLEASE NOTE: Online payments will be taken through Paypal. If you do not have a Paypal account already you will be invited to set one up.
For alternative payment options or more information on any of our cabinets, please feel free to email us...